Daycare worker found guilty in case involving burned child | News
HALL COUNTY, Ga. -- A jury has found a daycare worker guilty on numerous charges, including child cruelty, in a case involving a child who was badly burned.
Eddye Pittmon was one of three workers charged after the child, Damon Gaddis, apparently suffered second and third degree burns at the Discovering Basics Daycare in June 2014.
Seabolt said she took her son within the hour to the hospital, where he was diagnosed with the burns from his stomach to the bottom of his left leg.  During the trial, prosecutors told jurors they believe Damon was put in a sink with scalding hot water.  Police said the incident could have happened eight hours before the mother arrived to pick him up.
Seabolt says she learned more about the care of her son during the trial when other teachers took the stand.  She says one teacher testified Pittmon would smack Damon and tell him that his mother and father didn't love him.
"It was heartbreaking. I finally broke down. My baby had suffered abuse and he had been going there since he was six weeks old, so there's no telling how long he had been abused," said Pittmon outside the courthouse.
Damon has had two surgeries to remove the damaged skin and he will need another as a teenager, but Seabolt says physically he has recovered well.  Emotionally though, he's still terrified of water.
"If I give him a bath it's a one to two minute bath," Seabolft said. "He's like no, no, no. He starts screaming, he doesn't want in it at all."
The defense argued Damon could have been burned before he arrived, or by another teacher. They called several parents and a former employer to testify Pittmon was a caring, excellent day care worker.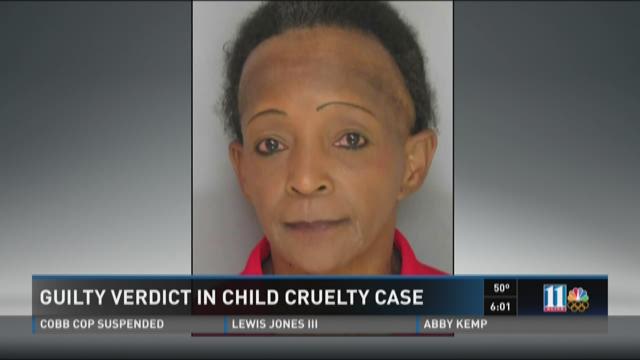 The Department of Early Care and Learning was so convinced after its investigation that whatever happened occurred at Discovering Basics, it closed down the facility permanently.
After a day and a half of deliberations, a jury found Pittmon guilty on two counts of battery, first-degree cruelty to children and second-degree cruelty to children. Her sentencing will be February 2. She faces up to 32 years behind bars.
Her attorney, Troy Millikan, says they plan to appeal the decision and notes that Pittmon was originally charged with aggravated battery.  Millikan said the jury reduced it to battery because they did not find any evidence of malice.  
While Pittmon was the one found guilty of actually hurting the child, two other workers including the daycare owner will soon go on trial for allegedly trying to cover it up. 
"All she had to do was say this happened, come get your baby, take him to the hospital.  That never got done.  That's what kills me," said Seabolt.
Minnie Sue Dupree was charged with influencing testimony while her daughter Tara Miller was charged with child cruelty in the second degree.
Pittmon has been out on bond, but was taken into custody after the verdict was read. Pittmon's attorney said they plan to appeal the decision.