6-year-old dies, 2 other children critically hurt in Hall Co. wreck | News
GAINESVILLE, Ga. -- A 6-year-old boy died and two other children were hurt critically in a three-vehicle accident on Poplar Springs Road at Sloan Mill Road in Hall County Tuesday evening. Three adults and a teenager were also injured in the crash.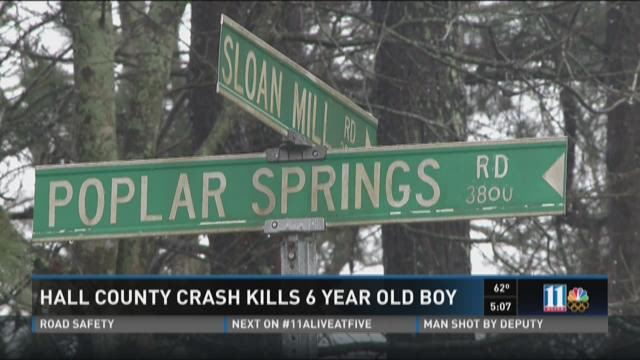 Hall County authorities said they received the call at about 7:21 p.m.  The Georgia State Patrol is investigating the accident along with Hall County emergency responders.
The Georgia State Patrol says one of the vehicles was traveling eastbound on Sloan Mill Road, approaching the intersection with Poplar Springs Road. The second vehicle was southbound on Poplar Springs Road, and struck the left side of the first vehicle, knocking it off of the roadway. The collision, investigators said, sent the second vehicle into the third vehicle, which was traveling northward on Poplar Springs Road. 
VIDEOS: Hall County crash critically injures 6 people
The 6-year-old boy was a passenger in the first car, which was driven by 33-year-old Geovanna Juarez of Gainesville.
"She (Juarez) failed to yield the right of way. She pulled out into the path of travel of a 2013 Chevrolet van,  said Sgt. Anthony Coleman, with the Georgia State Patrol in Hall County."Her vehicle was t-boned by the van. Vehicle number two, the van, continued south crossing the center line and struck another which vehicle is 2005 Hyundai SUV, head-on."
Three other minors were in that car, a 16-year-old, an 8-year-old and a 5-year-old, all girls. The second vehicle was driven by 41-year-old James Cripps of Gainesville, and the third vehicle was driven by 26-year-old Ashley Sosebee of Gainesville. All were initially taken to Northeast Georgia Medical Center in Gainesville, with the 8-year-old and 5-year-old girls transported to Children's Healthcare of Atlanta for additional treatment.
Hall County fire officials advised that the roads in the area would be shut down for an undetermined amount of time while the investigation takes place.
Witnesses to the crash reported seeing groceries and gifts scattered in the immediate area.