Witness describes scene as child escapes day care center | News
GAINESVILLE, Ga. -- A Gainesville daycare center is under investigation after a 4-year-old child wandered away onto a busy highway.
It happened Tuesday at the Gainesville Academy on Highway 63.  Witness Debra McEwen says she spotted the child in the roadway from about a half a mile away.
"At  the top of the hill, I noticed what looked like a small figure running into the right hand lane. She was  darting out into the traffic. she darted into my lane she darted into the other left lane, sees a truck coming she goes back into my lane across," she said.  McEwen passed the child without striking her.  "Then I look in my rear view mirror and she's darting and people are slaming brakes on. It was just squealing tires and people trying to stop," she said.
McEwen said she made a u-turn and doubled back to the scene, where another motorist had also stopped after nearly striking the child. An off duty police officer stopped as well and rescued the four year old from a grassy median.  "God was with all of us that day that the only explanation," said McEwen, who called it miraculous that the child wasn't struck. 
That daycare has had only minor safety violations over the past 15 years and the owner on Thursday apologized and said he had already added several new layers of security.
The question now is whether that will be enough to satisfy inspectors from the Georgia Department of Early Care and Learning.
Businesses that neighbor the Gainesville Academy have a daily view of cars speeding well above the 40 mph speed limit. They said they were shocked to hear that a 4-year-old girl was discovered darting in and out of traffic Tuesday, narrowly escaping being hit.
WATCH | Hear from a witness who saw the child on the highway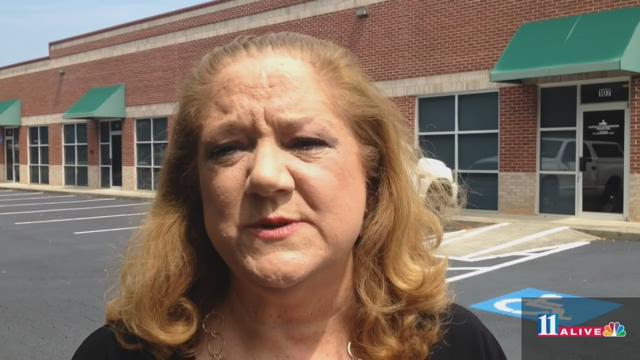 Three motorists stopped to help -- one of them an off-duty police officer. That officer said they were traveling down Highway 53 when they observed a child in the median of the roadway.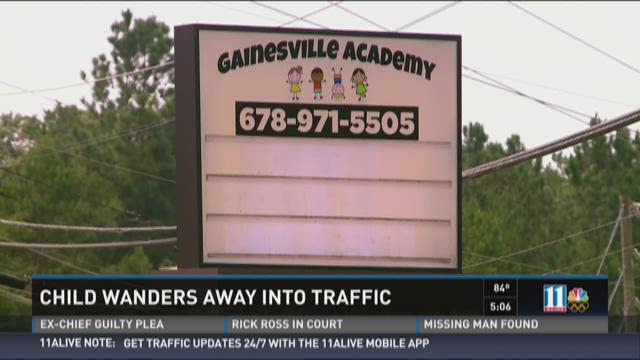 One witness who stopped at the scene said the preschooler was nearly struck by as many as a dozen cars.
"We're very fortunate that the child was not injured or, even much worse, killed," a local officer said.
The little girl was soon safely returned to the daycare center about 50 yards away.
Police said no criminal charges will be filed, although state daycare investigators could impose sanctions on the facility.
A spokesman for DECAL said the investigation could be complete in just a few days and will be used to decide what, if any, action to take.
The owner said nothing even remotely like this has ever happened at the facility.
911 CALL | Child wanders away from daycare